About Viking Scuba Kabira
Hello, we are Toyo and Anna and we started Viking Scuba Kabira in 2016. Both of us have been diving in many places around the world, but this it the island where we chose to settle down. We simply fell in love with the lush green forests, the emerald blue ocean and the amazing diving community in Ishigaki. Our boat Viking departs from the beach of Kabira bay or Sakieda depending on the season. Just a short boat ride away, there are many different dive sites to choose from!
Why Viking?
We are a small team doing what we love. Underwater, we go slow in groups of four (or less) and you can rest assured that your guide will not disturb or feed the local wildlife. Onboard our boat you can relax and enjoy your day with a group of like-minded people. The boat has a capacity for 15 people but we only take 8 guests on-board so that everyone can have their space. Come join us in happy life under the water!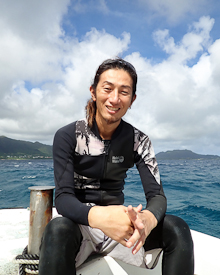 Masashi Toyoshima (Toyo)
PADI Instructor #495645
I have worked as an instructor in Thailand (Kho PhiPhi), Indonesia (Gili island), Australia (Exmouth) and then in Ishigaki island. I fell in love with Ishigaki and decided to make my own diving shop here with my Swedish wife. My diving style is slow and relaxed. I'm always searching for new macro, such as nudibranch, shrimps and gobies. I love taking underwater photos and I'm still practicing to get better. Let's go diving!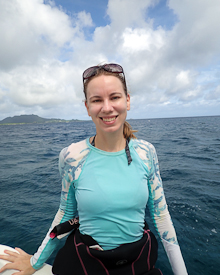 Anna Toyoshima
PADI Divemaster #259186
I'm a Swede who's fallen in love with the tropical climate and slow island lifestyle. In 2009 I set out to travel the world for one year but instead, I got hooked on diving and then I met Toyo. Before Ishigaki, I've been working in Vietnam (Nah Trang), Thailand (Koh PhiPhi) and Australia (Exmouth). Seeing a cute nudibranch will make my day! I'm in charge of emails so looking forward to hearing from you ^_^