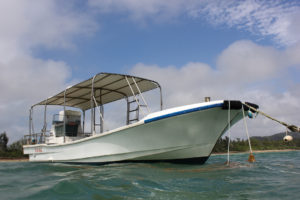 Hello and welcome to Ishigaki!
Viking Scuba Kabira is a small dive shop on Ishigaki island, Japan. It's run by us, Anna and Toyo, who came to Ishigaki in 2012 and simply fell in love with the island and the emerald blue ocean.
Both of us have been diving in many places around the world, but this island is where we chose to settle down and in 2016 we started Viking Scuba Kabira.
Ishigaki has some of the best diving in Japan and there are dive sites for all levels. The shallow reefs and good visibility is great for both beginner divers and photo enthusiasts.
Our boat Viking departs from the white beach of Kabira bay or Sakieda depending on the season.
Just a short boat ride away, there are many different dive sites to choose from! You can dive at one of the lively coral gardens, landscape sites with swim-throughs, and the famous manta points (manta scramble and manta city). It is possible to dive all year round but we dive at different sites depending on the wind so please ask what's in season right now.
As long as the sea conditions are good, we go out to one of the manta points every day from June to middle of October. The peak season for manta rays is in September to middle of October.
If possible, we also go out to manta point in other months of the year but usually we cannot go because of the north wind.
If manta rays are not in season, there is still many other things to see. The giant cuttlefishes are frequent visitors on the reefs from December to May. They perform their dramatic mating dance and lay eggs around March/April. In winter and spring there is also more nudibranch at the dive sites. All year round, you can see green sea turtles, lionfish, sea snakes, morays, eels, schools of colorful tropical reef fish, and lots of macro such as nudibranch, crabs and shrimps.
Team Viking Scuba will do our best to make your dives in Ishigaki memorable and fun.
Looking forward to meeting you!