Fun dive with us on Ishigaki's beautiful reefs! At Viking Scuba Kabira, you can relax and enjoy your dives in a small group. All our guides are PADI professionals who will have your safety (and fun!) in mind when planning the dives. Whether you are an enthusiastic photographer or just want to float over the scenic reefs, we got many sites for both beginners and experienced divers.
Diving in Ishigaki is beautiful all year round and there's always something exciting to see. Besides the lively coral reefs, there is a turtle point, landscape sites with swim-throughs and in season we go out to the famous Manta points (Manta Scramble and Manta City). Manta season is generally from around May to beginning of October with a peak in September/ beginning of October. If you are lucky and the sea conditions are good we do go out there in the other months too♪
Other seasonal guests on the reefs are the giant cuttlefish who mates around March/April.
Dive sites are decided by the captain in the morning. Do let us know if you have a crush on tiny crabs, love or hate sea snakes, or want to take a photo with one of the friendly turtles. Hope to see you soon!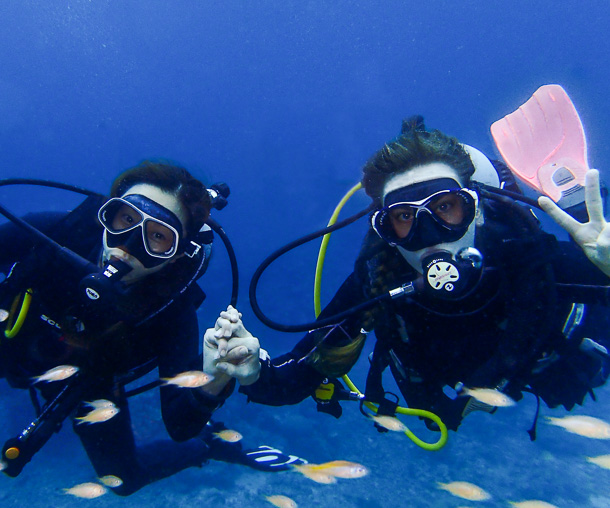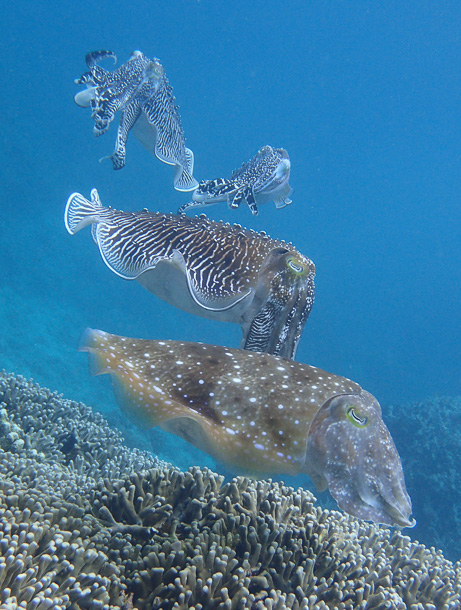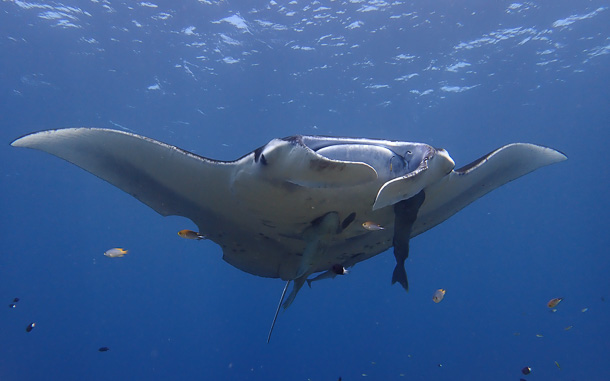 Why dive with Viking Scuba Kabira?
Location
Dive sites are just a short boat drive away, including Manta scramble and Manta city.
Small groups
Maximum 4 divers/dive guide. Bigger groups can of course dive together if they request to.
Facilities
We have several hot and cold showers at the shop and space to wash your gear.

Price includes pick-up, boat fee, guide, lunch, drinks, tanks, weights, and tax.
Please bring your certification card, towel and swimwear.
Extra rentals (not included in full set)
Rental equipment (excluding dive computer and camera) are 40% OFF from your second day of diving♪
Refresher course
Been out of the water for a while?  The course is done as part of your dive trip and will help to refresh your diving skills.
Price ¥3,000/ person
7:40 〜
Pick-up at your accommodation
8:10
Everyone meet at the shop
8:10 〜 8:40
Get ready, board the boat
9:30 〜
1st dive, relaxing surface interval ♪
11:20 〜
2nd dive, then back to the beach
12:30 〜 13:30
Take lunch at the shop or the beach. Finished diving? We will log the dives and then take you back to your accommodation
15:30 〜
We will log the dives and then take you back to your accommodation
※Schedule is subject to change depending on sea condition
※After diving you must wait at least 18 hours before flying