COVID-19 prevention measures
Viking Scuba Kabira is taking measures to prevent the spread of COVID-19.
We have received Ishigaki City's sticker for cooperating to prevent the spread of the virus.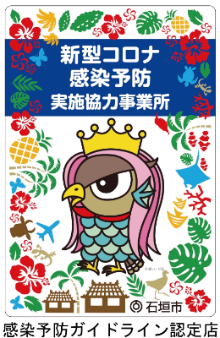 ※On the day of diving, we will ask you to fill in an additional form that asks for your cooperation to prevent the spread of COVID-19. Make sure that the following applies.
① Currently, I am not infected with COVID-19 or had close contact with an infected person.
② Currently, I do not have respiratory symptoms such as fever or cough.
③ There are no respiratory symptoms such as fever or cough among the people I stay with.
④ People I meet with regularly has not had close contact with COVID-19 infected persons.


※ Prevention measures at Viking Scuba Kabira
In accordance with YDA (Yaeyama Diving Association) we also take the following measures and ask you to follow certain guidelines when diving or snorkeling with us.
We have limited the number of guests to allow social distancing.
Common areas are disinfected regularly.
We currently cannot provide hand towels, dryers or cotton buds.
Bring your own bath towel and face mask, rental is not possible.
Equipment is disinfected between uses.
We will fill in the logbook outside.
Please, come by your own rental car. We still offer pick-up service but kindly ask to come by own transport if possible. All passengers must wear face mask inside the car.
Wear a face mask in closed spaces (such as inside the shop and the shuttle car).
Cancel your dive immediately if you have fever, cough or other symptoms that could be COVID-19. (Please check your temperature each morning and, if you have symptoms, contact us before pick-up.)
Full version (PDF) can be read/downloaded here
Don't hesitate to contact us for any questions or to make a reservation.
Cancellation is free of charge if you are not feeling well and have symptoms that could be COVID-19.



You can find more information about routines at the airport and how Ishigaki is handling the COVID-19 pandemic at https://www.ishigaki-covid19.com/pages/3999042/en

※We will temporary close the business if…
● Our staff tests positive for COVID-19 or had close contact with someone infected.
● The government requests us to close.
In the above cases, we will close immediately and might not be able to honor your reservation. Thank you for understanding.