COVID-19 prevention measures
Viking Scuba Kabira is taking measures to prevent the spread of COVID-19.
We have received Ishigaki City's seal for cooperating to prevent the spread of the virus.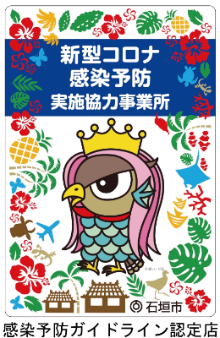 ※ Prevention measures at Viking Scuba Kabira
In accordance with YDA (Yaeyama Diving Association) we also take the following measures and ask you to follow certain guidelines when diving or snorkeling with us.
We have limited the number of guests to allow social distancing.
Common areas are disinfected regularly.
Bring your own bath towel
Equipment is disinfected between uses.
We will fill in the logbook outside.
Cancel your dive immediately if you have fever, cough or other symptoms that could be COVID-19. (Please check your temperature each morning and, if you have symptoms, contact us before pick-up.)

※We will temporary close the business if…
● The government requests us to close.
In the above case, we will close immediately and might not be able to honor your reservation. Thank you for understanding.